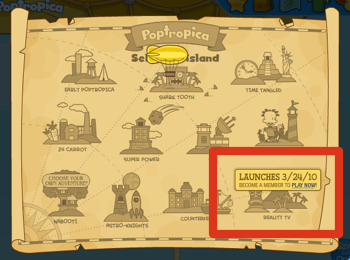 OK big news. Reality TV Island is finally here at least for paid members who all get early access. You can't buy early access with credits like you could for Astro-Knights and Counterfeit. You have to be a paid member. Regular free players will get to play Reality TV Island in one month, on March 24.
I'm playing it right now and it's really fun. The first place takes place in a town where everyone is obsessed with TV and a reality TV star from their town who is hiding out from fans. You need to put together an application to be on the reality tv show and this part is pretty easy. Then the next part is competing with the other contestants in the show and trying to not get voted off. Just like on the TV show Survivor, if you win each day's challenge, you are immune from being voted off.
There's a pretty good walkthrough of the first part of the island already up on PoptropicaSecrets.com: Reality TV Island Walkthrough. I will post some screenshots and a walkthrough here too as soon as I finish the island. It's fun!